4th Stochastic Geometry Days
Conference GDR GeoSto
Poitiers, August 24-28, 2015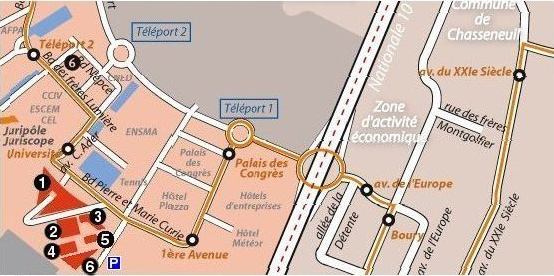 Conference Venue
The conference will take place in the IFMI
building at the Futuroscope campus of
the University of Poitiers.
Bâtiment IFMI (6 on the map)
Boulevard Marie et Pierre Curie
86962 Futuroscope Chasseneuil Cedex

Travel
The Futuroscope campus is about 10 km north of Poitiers. You can come to Poitiers by train, by plane or by car. See below for travel directions from the Poitiers train station, the Futuroscope train station and from the Poitiers airport.
By Train
Take a TGV train to the Poitiers or Futuroscope train station from Paris Montparnasse train station (metro station Montparnasse-Bienvenue, lines 4, 6, 12 or 13); travel time about 1h45.
If you come from Paris Charles de Gaulle Airport, some TGV trains go directly to Poitiers or Futuroscope train stations from Aeroport CDG2 TGV; travel time about 2h30. Otherwise, take RER B from Charles de Gaulle station to Denfert-Rochereau metro station, then take line 6 to the Montparnasse train station.
From Poitiers train station (25 min bus ride)
From Futuroscope train station (10 min bus ride)
Check with the Vitalis website for more information on the Poitiers bus network (maps, schedules)
By plane
The Poitiers Biard airport is served by Ryanair and Hop! airlines. You can take a direct flight from London, Edinburgh, and Lyon, but not from Paris. Look at the airport website for more details. The airport is about 10km from Futuroscope campus and is not served by bus. Take a taxi or rent a car to get to the conference venue.
By car
Motorway A10 (from Paris or Bordeaux), exit n°28 Futuroscope
GPS coordinates of the Mathematics Department are (46.658808,0.360462).
Enlrage plan